by Frank Myers Auto Maxx
8/23/2019 - Winston-Salem, NC
---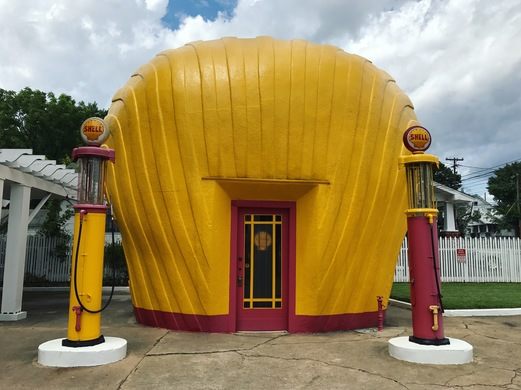 Winston-Salem, NC is home to several unique landmarks like The Big Coffee Pot and the bull statue at Thrif-Way Meats. However, the most iconic and well-known roadside attraction is the Sea Shell Shaped Gas Station.
This symbol of a bygone era, located on the corner of Sprague and Peachtree Streets, is the last of its kind in the United States.
Quality Oil Company, a Winston-based marketer of Shell Oil, built eight of these in the late 1930s. Seven in Winston-Salem and one in the nearby town of Kernersville. The design of the stations was so unique it was patented on November 25, 1930.
The stations, which were constructed of concrete stucco over a bent wood and wire framework, serving up gas to motorists in need for decades. Sadly, the good business didn't last as competition, a new highway, and changes in traffic patterns left the gas station.
After the gas station closed, the structure was used as a lawn mower repair shop. Eventually it fell into disrepair and the iconic Shell Service Station was added to the National Register of Historic Places on May 13, 1976.
Radiant Symbol Of A Bygone Era
If you're looking for a quick history lesson coupled with a fun photo and free photo opportunity, the Shell station is a worthy detour. Just a little north of Interstate 40 and a quick 8.7 mile trip from Frank Myers Auto Maxx, it's a step back in time.